Discover Lake Norman: Lake Norman Marinas and Popular Boat Names in 2011:It's that time again! The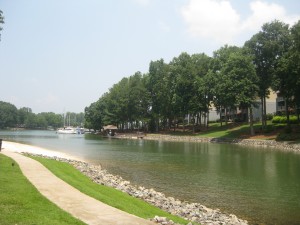 weather is heating up, people are getting the itch to be out onLake Norman. Some boaters, sailors and waterenthusiastshave already been out on Lake Norman, braving the lake no matter what the water temperature! Lake Norman is a great lake to enjoy your favorite water activities, boat around, relax or hang out with friends. If you are looking for a greatrestaurant on Lake Normanthere are plenty to choose from! Here are someLake Norman Marinas that have all your boating needs:
Cornelius Marinas:
Holiday Marina: 20139 Henderson Road Cornelius NC: (704) 892-0562
Kings Point Marina: 17939 Kings Point Drive Cornelius NC: (704) 892-3223
Denver Marinas:
Westport Marina: 7879 Water Oaks Drive Denver NC: (704) 483-5172
Mooresville Marinas:
All Seasons Marina: 827 Langtree Road Mooresville NC: (704) 892-3478
Inland Sea Marina: 114 Bowfin Circle Mooresville NC: (704) 664-4414
River City Marina: 155 Pinnacle Lane Mooresville NC: (877) 595-3234
Stutts Marina: 571 Stutts Road Mooresville NC: (704) 664-3106
Sherrils Ford Marinas:
Boat Rack Marina: 7865 Spinnaker Bay Drive Sherrills Ford NC: (828) 478-2118
Lake Norman Marina: 6965 N.C. 150 E. Sherrills Ford NC: (704) 483-5546
Lake Norman Motel, Restaurant and Marina: 4491 Slanting Bridge Road Sherrills Ford NC: (828) 478-2817
Mountain Creek Marina: 7515 Stonewall Street Sherrills Ford NC: (704) 483-0077
Also here is a little help if you are looking for a name for your strapping boat for this year. Here are the top boat names of 2011 via www.firstboat.com:
Serenity
Happy Hours
Feelin' Nauti
Family Time
Liberty
Black Pearl
Andiamo
Knot on Call
High Maintenance
Just Chillin'
If you have any questions about the Lake Norman Area or Real Estate in the Lake Norman area, I am glad to be of service. Here is a list ofhomes for sale in the Lake Norman Area. Contact Alyssa Roccanti (704) 654-9305/alyssaroccanti@gmail.com for your personal Lake Norman Tour Today!