Ducks Donuts is coming to Huntersville!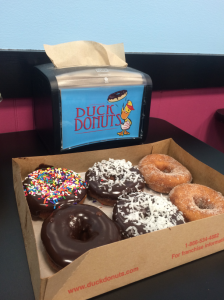 So I have such nostalgia while writing about Duck Donuts! I can smell the salty air in the Outer Banks as I bike ride to get a  chocolate frosted donut with coconut shreds sprinkled on top! My mouth is watering as I type! I was so excited when Duck Donuts said they would be opening in Charlotte, I mean that's only 3o minutes from where I reside in Huntersville NC. Well I just found out there's a coming soon sign for Duck Donuts in Huntersville! I will certainly post more details when I know they are opening but Duck Donuts opening in Huntersville NC is amazing! I definitely will need to bike or walk to Duck Donuts to keep the calories down. 🙂
**Update:  Duck Donuts is now open, go get your donuts people, so good!!
Address: 9931-C Rose Commons Drive Huntersville, NC 28078