Coffee shops in the times of COVID-19 are vital, with more people at home during the day now more than ever. COVID-19 and new work-from home situations have increased the need for the mid-day outings, work space outside the home, and a higher demand for outdoor seating at restaurants and coffee shops.
The Lake Norman area has a wide variety of great coffee shops and spaces that provide a safe way to get a coffee, get some work done, and meet up with friends and coworkers! Here are some of Lake Norman's locally owned and operated coffee shops with outdoor seating to visit right now:
Defined is located inside of the Lake Forest Church conference center and has large areas of both indoor and outdoor seating. They have brought in high-quality coffee beans and vendors from throughout North Carolina to craft quality coffee and pastry items. Defined baristas are super nice, knowledgeable, and make excellent specialty drinks, including a popular favorite – their lavender vanilla latte!
Defined is currently taking online orders for pick-up and are operating under reduced hours: Monday – Saturday: 7am – 3pm and Sunday: 12pm – 5pm
Summit Coffee (128 S Main St, Davidson)
Summit has 3 locations in North Carolina – 2 in Davidson and another in Asheville. Their first location, nicknamed their "Basecamp", is located in downtown Davidson on Main Street and has been there since 1998. The longtime local favorite has delicious coffee and pastries for everyone to enjoy both inside and outside on their patio. Summit offers a mobile app that notifies users of upcoming specials, rewards, and more! Visit them on Saturday mornings after walking around the Davidson Farmer's Market!
Current hours: Monday- Wednesday: 6am – 7pm, Thursday & Friday: 6am – 9pm, Saturday: 7am – 9pm, Sunday: 7am – 7pm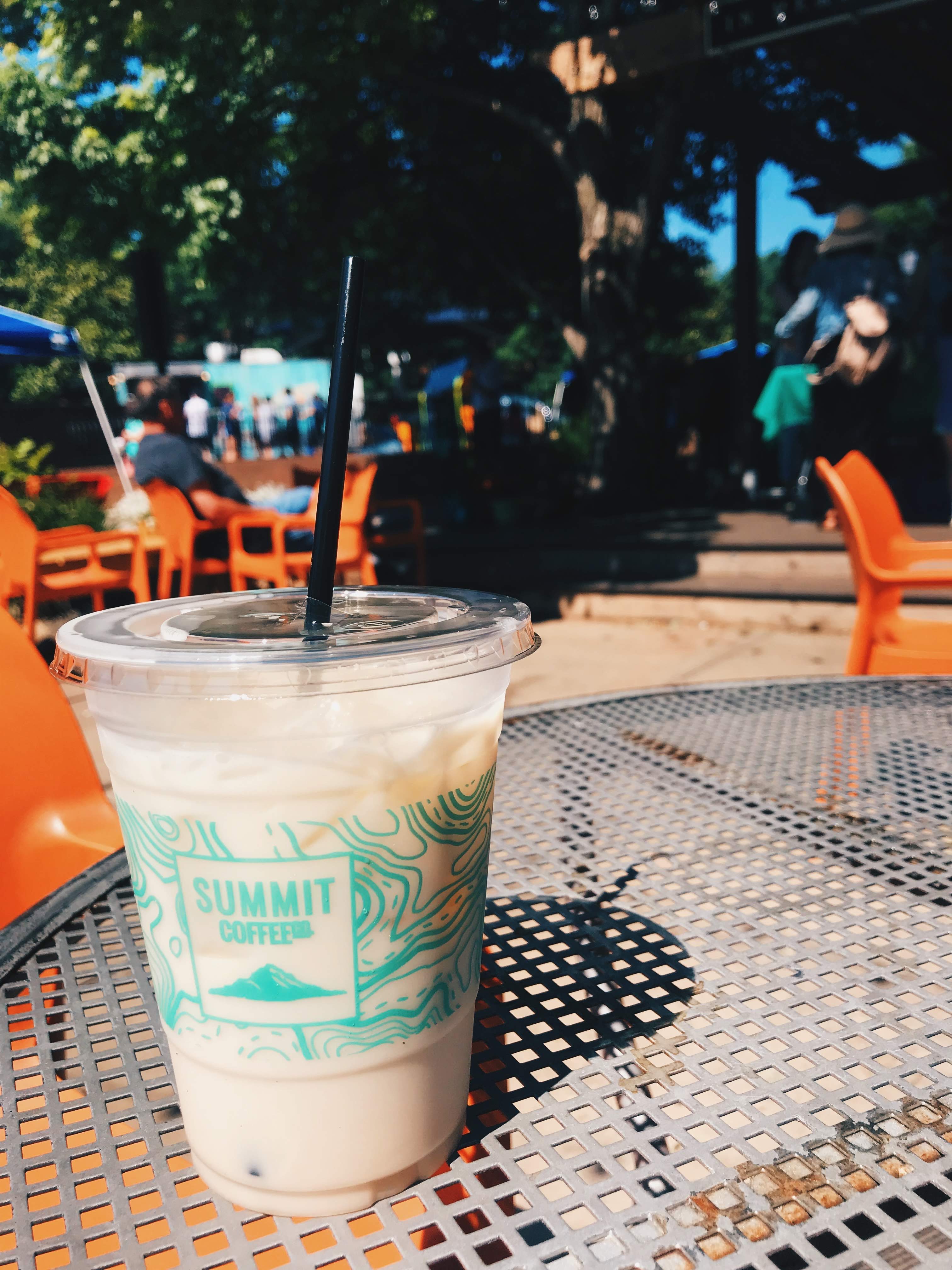 Waterbean (Two LKN locations: 19420 Jetton Road #105 Cornelius, 9705 Sam Furr Road Ste. A, Huntersville)
Waterbean is a local favorite for their two LKN locations in Huntersville and Cornelius. They are a USDA certified organic coffee shop and roastery. Waterbean has a large amount of seating both inside and out, making it an excellent location for work, studying, or just grabbing a quick coffee. They have an extensive menu of coffee, pastries, sandwiches, and more. Beyond the two Lake Norman coffee shops, they also have 4 locations in uptown Charlotte.
Current hours Cornelius:
Monday- Friday: 7am – 6pm
Saturday-Sunday: 8am-6pm
Current hours Huntersville:
Monday- Saturday: 7am – 9pm
Sunday: 7am – 7pm
Old Town Public House (21314 Catawba Ave, Cornelius)
Old Town Public House offers a wide variety of entertainment, beverages, and outdoor seating. It is the perfect place for a mid-day coffee break or grabbing a drink at the end of a long work week! They have a coffee bar with both coffee classics and seasonal specialty drinks by day, and a tap room and bottle shop by night – with a rotating lineup of craft beers, fine wines, ciders, and more! OTPH brings in live musicians every night during the week, making it a popular LKN spot all hours of the day. They also bring in food trucks for customers to enjoy every Wednesday – Saturday, making it a fun way to try local food brought in every weekend!
Current OTPH hours:
Monday: 7:00 am – 10:00 pm
Tuesday- Thursday: 7:00 am – 12:00 am
Friday- Saturday: 7:00 am – 1:00 am
Sunday: 3:00 pm – 10:00 pm
Main Street Coffee and Coworking (104 Main St #A, Huntersville)
Main Street Coffee and Coworking is one of Lake Norman's few co-working spaces available for working, coffee drinking, and meeting up with friends or coworkers! It is a coffee shop and business incubator, combining coffee with growing start-up companies in the local area. They offer 3 different options for use: a day pass, flex desk, and permanent desk – with customers able to pick which option best suits their coffee/working needs, certainly a great option with many working from home right now!
Current hours:
Monday- Tuesday: 6:00am – 5:00pm
Wednesday- Friday: 6:00am – 7pm
Saturday: 6:00am – 6:00pm
Sunday: 7:00am – 4:00pm